Pre-Built and Custom Computers Available
---
At ItsBroken Digital, we specialize in building custom computers to meet the specific needs of our clients. We offer a wide range of options, from budget-friendly computers for everyday use to high-end gaming rigs.
Our team of experienced technicians can guide you through the process of selecting the right components for your build, taking into consideration your budget and performance needs. We understand that every client has different requirements, so we offer a variety of component options at different price points. In addition to custom builds for gaming and everyday use, we also offer custom workstation builds for those in need of a powerful machine for running demanding programs like AutoCAD.
These workstations are designed with the latest multi-core processors, large amounts of RAM, and high-performance graphics cards to ensure smooth operation and fast rendering times.
We also have a selection of pre-built computers at various price points to suit different budgets.
Our team is well-versed in the latest technology and can provide you with the necessary guidance to make an informed decision about your computer build or purchase. We stand behind the quality of our work and offer reliable technical support to ensure that your custom computer is running smoothly.
If you are interested in building a custom computer, don't hesitate to contact us for more information. Our team would be happy to help you create the perfect machine for your needs!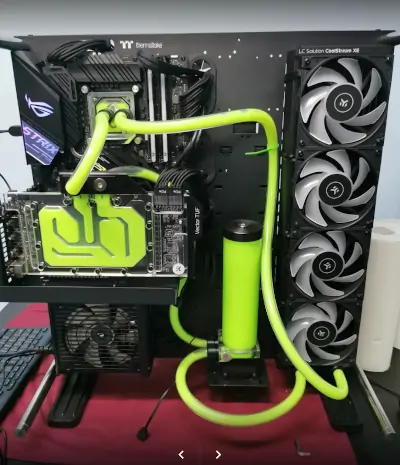 Considerations for Custom Computers
---
Build a custom computer that is tailored to your specific needs and requirements. From identifying the intended use, researching the latest hardware and components, to selecting a reliable motherboard and power supply, and testing the final product. Our comprehensive guide will walk you through the process and ensure that you end up with a high-performance computer that is optimized for gaming, AutoCAD, or office work.
Some ideas worth considering for a custom build:
Identify your specific needs and requirements for the computer based on the intended use (gaming, AutoCAD, office work, etc.).
Research the latest hardware and components that are best suited for your needs.
Consider the CPU, GPU, RAM, storage, and cooling options that will provide the best performance for your intended use.
Choose a reliable motherboard that supports the chosen hardware and features.
Select a power supply that is capable of providing enough power for all components.
Choose a high-quality case that will provide adequate cooling and easy access to all components.
Consider the options for peripherals such as keyboard, mouse, monitor, webcam, and speakers.
Choose an operating system such as Windows, Linux or your personal preference.
Select software that will be required such as Adobe products, Microsoft Office, Autocad, or Ableton. The list is endless.
Make sure to install the latest drivers and updates for your operating system and all components and peripherals.
Test the computer thoroughly before using it for important tasks.
Keep in mind that building a custom computer can be a fun and rewarding experience, but it also requires a significant amount of research, planning, and technical knowledge. ItsBroken Digital build custom computers daily so we have the know how to get your next computer right.
Quality Assurance Testing
---
Quality assurance is an important step in the process of building a custom computer. It is necessary to ensure that all components and peripherals are working correctly and that the computer is stable and performant. Here are a few testing methods we use, and you should too:
Power-on self-test (POST): This is a diagnostic test that runs automatically when the computer is turned on. It checks for basic hardware functionality and can alert you to any issues with the CPU, memory, or other components.
Stress testing: This involves running intensive workloads, such as gaming or rendering, to test the stability of the computer and identify any potential thermal or power issues. Some free software that performs stress testing is Heavy Load by Jam Software.
Benchmarking: This involves running benchmarking software to measure the computer's performance and compare it to other systems. A great free benchmarking tool called SiSift Sandra is available in a lite version.
Functional testing: This involves running the software you intend to use on the computer to ensure that it is working correctly and that there are no compatibility issues.
It's important to keep in mind that the process of building a custom computer can be a time-consuming process and testing is a crucial step to ensure the stability and performance of the machine.
Every computer, laptop or server built by ItsBroken Digital is QA tested for 24 hours prior to releasing to a customer. In the event that a QA test fails, we run through these simple steps to ensure the problem is corrected:
Investigating the cause of the failure by analyzing log files, system metrics, and other data to determine what went wrong.
Identifying and correcting any software or hardware issues that may have contributed to the failure.
Re-running the stress test or benchmark to ensure that the issue has been resolved and that the system is stable and performing as expected.
Communicating with customers to keep them informed about the issue and the steps being taken to resolve it.
Documenting the incident and any actions taken for future reference and for internal compliance purposes.
The end result of QA testing is a computer that is considered to be of high quality, reliable and ready for release to customers.
---

Make contact with ItsBroken Digital. Call now or visit our contact page where you can find all the information you need to reach us, including our phone number, email address, and contact form.
---
---