Network Diagnosis and Maintenance
Optimizing Your Network for Maximum Performance
---
At ItsBroken Digital, we specialize in performing network diagnosis and maintenance for businesses of all sizes. Our team of experienced professionals has the knowledge and expertise to identify and resolve a wide range of network issues, from connectivity problems to security vulnerabilities.
Our Approach
When a client contacts us with a network issue, the first step we take is to assess the problem and gather as much information as possible about the network's current configuration and performance. We use a variety of diagnostic tools and techniques to identify the root cause of the issue and come up with a plan for resolution.
Once we have a clear understanding of the problem, we provide our clients with a detailed diagnosis report and a plan for repair or maintenance. We strive to be transparent and upfront about the work that needs to be done and the costs involved, so our clients can make informed decisions about their options.
When it comes to actually performing the diagnosis and maintenance, we use only the best tools and techniques to ensure a successful outcome. We take great care to properly identify and fix any issues, ensuring that the network is running smoothly and efficiently.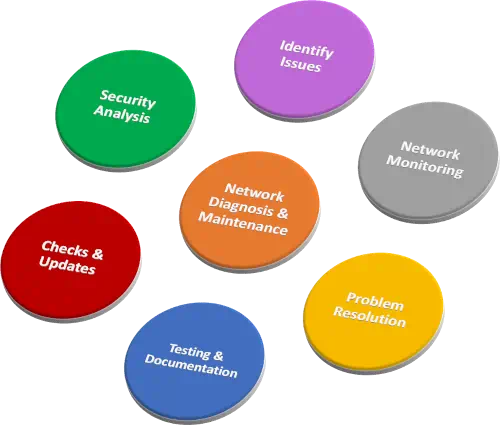 Additional Options
In addition to diagnosis and maintenance, we also offer a range of other services to help our clients keep their networks running smoothly. These include network design and implementation, security assessments, and data management and analysis.
We are committed to providing excellent customer service and ensuring that our clients are completely satisfied with our work. We offer a satisfaction guarantee and stand behind our services, offering follow-up support as needed to ensure that our clients' networks are functioning properly.
Our team is available to answer any questions or concerns that our clients may have, and we work closely with them to ensure that all their needs are met. We understand the importance of network reliability and performance, and we strive to provide the best possible solutions to meet our clients' unique needs and goals.
In addition to our network services, we also offer ongoing support and maintenance to help our clients prevent future issues. This includes regular system check-ups, software updates, and advice on best practices for keeping networks running smoothly.
Overall, our goal is to help our clients optimize their networks and improve efficiency, productivity, and security. Whether you need a one-time diagnosis and repair or ongoing support and maintenance, we have the expertise and resources to get the job done right.
A Common Guide for Network Diagnosis and Maintenance
---
Learn how we effectively diagnose and fix network issues with this basic guide to network diagnosis and maintenance. From identifying the problem to implementing a solution and ongoing monitoring, this guide covers all the essential steps for maintaining a healthy network infrastructure.
Identify the problem: The first step in performing network diagnosis and maintenance is to identify the problem. This can be done by reviewing system logs, monitoring network performance, or by talking to users who are experiencing issues.
Gather data: Once the problem has been identified, gather as much data as possible about the issue. This may include system logs, network performance data, or information about the specific devices or systems that are causing the problem.
Analyze data: Analyze the data that has been gathered to determine the root cause of the problem. This may involve reviewing system logs to identify specific error messages, analyzing network performance data to identify bottlenecks, or reviewing the configuration of specific devices or systems.
Develop a plan: Based on the analysis of the data, develop a plan to address the problem. This may include configuring new hardware or software, updating existing systems, or providing training and support to the customer's IT team.
Implement the plan: Implement the plan to address the problem. This may include configuring new hardware or software, updating existing systems, or providing training and support to the customer's IT team.
Test: Test the solution to ensure that the problem has been resolved and that the network is functioning as expected.
Document and Communicate: Document the steps taken, problem, cause and solution. Communicate the outcome and any follow-up actions to the customer or stakeholders.
Ongoing Monitoring: Monitor the network performance to ensure that the issue does not reoccur and to detect any new issues that may arise.
Regular Maintenance: Perform regular maintenance tasks such as updating software, backing up data, and checking for security vulnerabilities to keep the network running smoothly.
Review: Review the process and outcome to identify any areas for improvement in the next diagnostic and maintenance process.
---

Contact ItsBroken Digital. Call now or visit our contact page where you can find all the information you need to reach us, including our phone number, email address, and contact form.
---
---